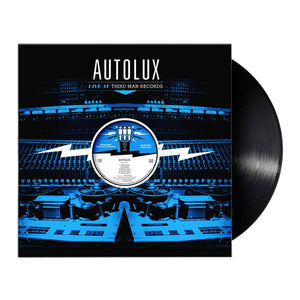 LIVE AT THIRD MAN VINYL LP (2016)
DESCRIPTION:
AUTOLUX MELTS FACES AT THIRD MAN RECORDS - The Nashville Scene
  "Indeed, a majority of the band's 11-song set and live-to-acetate recording sesh came straight from Future Perfect, with tunes from their upcoming Pussy's Dead peppered in for good measure. Once the needle hit the cutting lathe, the band shed their guitars for synthesizers, and drummer Carla Azar casually stepped onto her bass drum and sang most of  "Soft Scene" from there with motionless intensity - while Edwards and Goreshter pulsed through the glitchy deep-grooved dance rhythms with heavy bass and keyboards. A song with defiantly German aesthetics, but sounding more in the tone of Kid A than Loveless."
VINYL PACKAGING DETAILS:
12" black vinyl

TRACK LISTING:
A
01 SOFT SCENE
02 PLANTLIFE
03 SUBZERO FUN
04 BRAINWASHER
B

01 BLANKET
02 CAPITAL KIND OF STRAIN
03 LISTEN TO THE ORDER
04 BRAINWASHER
05 ANONYMOUS